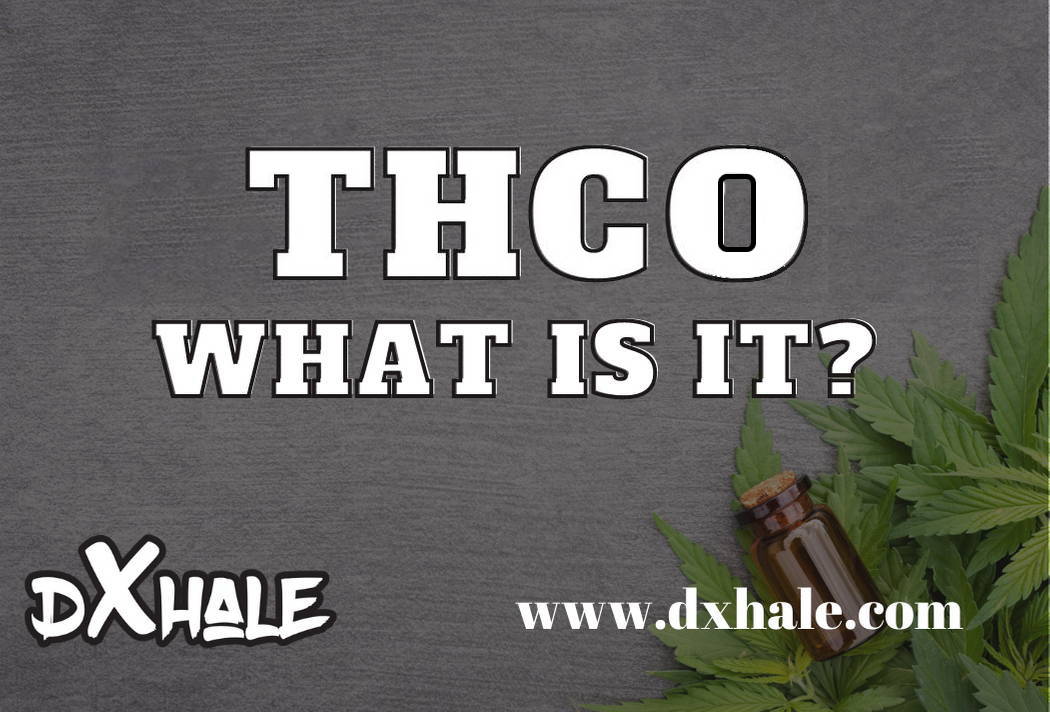 As Robert C. Gold said in his 1974 book, THC-O is incredibly potent. Estimates of its potency range from double to triple the potency of THC. Leafly's description calls it the Psychedelic Cannabinoid because of how strong it is. While Delta 8 and Delta 10 are typically best for consumers looking for a slightly less strong THC alternative, THCO is exactly the opposite. This one's best for the adventurer. Try DXHALE THCO in these four delicious flavors, and in a convenient THCO disposable vape cartridge:
THCO Disposable: Barry Larry
THCO Disposable: Berry Blitz
THCO Disposable: Citrus Twist

THCO Disposable: Skywalker OG

In the hemp-derivative sphere, it seems like new compounds are popping up every month. THC-O Acetate (THC-O or THCO for short) has actually been on the radar for quite some time. The US Army Chemical Corps may have been experimenting with THCO as early as 1949. In 1974 Arthur C. Gold, in his book Cannabis Alchemy: Art of Modern Hashmaking, explained some of THCO's effects. He wrote
"The effect of the acetate is more spiritual and psychedelic than that of the ordinary product. The most unique property of this material is that there is a delay of about thirty minutes before its effects are felt."
Gold also included instructions to synthesize THCO in his book. At the time, he called it THC Acetate. The FDA began scrutinizing THC-O a few years later, and guessed that the substance they had found had been produced according to Gold's instructions. At the time though, they assumed it was an isolated finding and did not express concern for THCO as an illegal analogue of THC.
As you might have guessed, THCO is synthesized from cannabis. It can use either THC or THCA by adding acetic anhydride. THCO is probably the most complicated hemp derivative when it comes to production. That's because acetic anhydride can be pretty risky to handle. When performed by professionals, though, the conversion process is safe. After isomerization under controlled temperature and pressure, the THCO oil is ready to extract and consume.
Is THCO Legal in the United States?
As of this writing, THCO and other hemp derivatives are federally legal in the United States. Due to the farm bill, any hemp derived cannabinoid is legal as long as it contains less than 0.3% Delta-9 THC - which is the illicit THC found in marijuana. Therefore, as long as your THCO products contain less than the allowed amount of Delta 9, they are federally legal. Reputable THCO retailers will always provide a lab test showing that their products contain less than the legal threshold of Delta-9, so be sure to check those before making a purchase.
THCO Legality: Exceptions to the Farm Bill
Pure THCO Acetate doesn't take effect until after it's metabolized, and is most probably safe. On the other hand, due to the involved chemical process there can be lots of questions about the quality of additives. If you buy THCO from informal sources (like friends or acquaintances), you should question the quality and purity of the acetic anhydride. THCO must be purchased from a legitimate source in order to be considered safe. DXHALE makes our lab reports available here on our website, so that you can see that your THCO is safe.
What kinds of THCO products are available on the market?
Despite its popularity, there are still pretty few stores with THCO for sale. In general, you can find THC-O available in vape form, sublingual form, and edible form. Since THCO is more psychedelic and adventurous, we prefer DXHALE THCO in high-quality, lab tested THCO Disposables and THCO Gummies.
Where can I buy THCO products online?
DXHALE has premium THCO disposables that are easy to purchase online. If you want to buy THCO, SHOP HERE.
Enter your email and receive 10% off your first order.